Quisenberry, a Spokane based advertising agency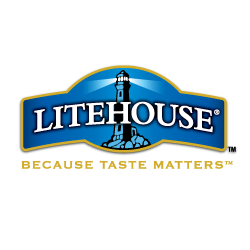 Situation: Litehouse Foods is a national manufacturer of fresh refrigerated salad dressings. They are a challenger brand in a category led by shelf stable dressings with dominant brands like Kraft and Newman's Own. And, they are a challenger within the refrigerated subsection of dressings. Litehouse approached QMD never having done traditional mass media advertising – in the past they opted to spend their marketing dollars in grocery store circulars.
Litehouse management was interested in conducting a test to assess if an investment in mass-market advertising would lead to an increase in market share. QMD was retained by Litehouse to: 1) conduct consumer research into consumer behaviors regarding dressing purchases; 2) to develop a communications strategy, and bring that strategy to life through tactical creative messages; and 3) to design, implement and monitor a multi-market test.
The primary objective was to redirect shoppers from the shelf stable section of dressings to the refrigerated section, and then compete from there. By accomplishing this, they hoped to increase their brand awareness and grow the category of refrigerated dressings as a whole. The goal was to experience a 12 percent sales increase.
Execution: QMD commenced this initiative by conducting focus groups of the target demo in Portland OR, Seattle WA and Spokane WA. We were looking to unearth key learnings regarding the importance people placed on what was in their food, as well as insight into Litehouse product differentiations and brand awareness. We learned that salads were associated with being healthy even though most dressings are loaded with preservatives and chemicals. We also identified that product differentiation was the lack of those chemicals and preservatives, and that Litehouse brand awareness was around 40%.
Our creative strategy was to disrupt the consumers' normal buying pattern by pulling the curtain back on why, if one is serious about salads as part of healthy eating, it's worth the 20 foot walk to the refrigerated produce section to look for a more natural/healthy choice. Using this key insight, QMD created a series of 30-second and 15-second spots, as well as newspaper FSI's and magazine ads that focused on the key message "no bad stuff".
To develop a media strategy with a limited budget for a national advertiser, we determined the best use of funds would be a hyper-focus on two test markets. The campaign was launched using a series of :30 and :15 second TV spots, print, freestanding inserts, direct mail and in-store point of sale.
Results: At the end of the campaign, Litehouse saw a 40 percent sales increase (the goal was 12%). And based on formal post-campaign research, brand awareness was up to 80 percent over a period of time after the campaign ended.
The success of this campaign led to its expansion into Denver, Seattle, Salt Lake City, Boise, Minneapolis, Sacramento and Chicago.
Litehouse Foods Creative Work
Television