Quisenberry, a Spokane based advertising agency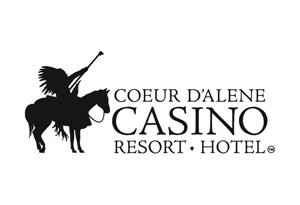 Situation: When the Coeur d'Alene Casino (CDAC) finished their seventh and largest expansion project, the new look and feel was a drastic departure from the existing branded "hometown, country lodge" feel. The property had truly become an entertainment resort destination with 100 new modern hotel rooms, a new pub, steak and seafood house and a new spa. After a lot of research and some good old-fashioned expert intuition, Quisenberry developed a new brand strategy with all of the critical components - a new brand vision, brand personality and positioning statement. New key messaging and creative executions were developed, along with opportunities and actions steps paramount to bringing the new strategy to life.
Execution: The new strategy included unique micro-strategies for the different venues, each targeting a specific audience. For example, the steak/seafood house was marketed much differently than the buffet, and the golf course differently than the gaming floor.
Traditional Media: TV, Radio, Print, Outdoor and digital did the "heavy-lifting" of getting the message out for branding and promotional messaging.
Social: Primarily Facebook, Twitter, YouTube, Yelp and Trip Advisor used to converse with customers, promote events and stay present and active in the conversations about the brand.
Public Relations: We reached out to journalists and travel and food bloggers hosting them at resort "Familiarization Tours" to experience the property and write about their experience.
Sponsorships: Aligned sponsorships with key strategic initiatives.
Results: the results of the campaign helped drive CDAC brand awareness across a larger geographic scale. It attracted travelers, gamers and golfers from California, Arizona, Montana, Canada, etc. that presumably would not have come just for the gambling. The new hotel maintained a steady 80% occupancy rate. And most importantly, post-expansion, the Casino had some of its biggest days and weekends ever in their history.
Coeur d'Alene Casino Creative Work
Television